Success in heritage windows
Recently we spoke to Glass News about what it takes to be successful in the ever-growing heritage windows market. Here's the article…
Sash windows are more popular now than at any time since their heyday in 19th century, when they were a core part of British architectural design где оформить онлайн займ на карту . Growing interest in heritage styles, combined with a steady stream of original windows reaching their end-of-life and a new determination to replace poorly specified windows with more appropriate designs, have fuelled a heritage window boom. In otherwise uncertain times, more installers recognise the financial benefits of operating in the high-end, high-profit timber-alternative market.
At Roseview we have been manufacturing uPVC sash windows for over 35 years. That's made us one of the best-known names in a burgeoning timber-alternative sector that's developing new ways of combining tradition styles with the performance, maintenance and installation benefits of modern materials and techniques.
In that time we've seen a variety of heritage systems come and—sometimes—go. In most cases they fall into one of two camps: imitation or authentic.
Imitation vs authentic heritage windows
Imitation windows do exactly what they suggest – they imitate heritage styles and some of the more obvious details, but they don't stand up to scrutiny. In our area of expertise—sash windows—there are several features that identify an imitation window; chunky profiles, mitred welds, ovalo detailing on the outside and unrealistic foils are all giveaways.
There's absolutely nothing wrong with imitation windows; one of our own models—Charisma Rose—falls into this category. They're ideal for situations where budget takes precedence over detailed authenticity; new builds for instance, or all those houses where original sash windows were replaced by mock-sash pushouts in the 1990s. It's a big market that's growing all the time. For not a great deal more than you'd pay for a standard casement, you can have a proper sash window.
But imitation windows generally won't cut it where accuracy or visual consistency is important; for that you need authentic windows. Conservation areas are the most commonly used example of where these should be used, but in fact there's a wide variety of projects and scenarios. Any high-end or traditional building, either old or new, will benefit from authentic windows, as will any home where the owner wants timber style but without the maintenance hassle. Returning to sash windows, slim timber-like sightlines, seamless sash horns, mechanical joints (vertical on sashes, horizontal on the frame – the details are important!) and smooth putty lines mean that from the street and from close-up the windows look better than timber. These are the sort of features you see on our Ultimate Rose sash windows, and the equivalent features will be there on authentic flush casements.
Conservation officers and planners know the difference between imitation and authentic windows. More importantly, so do homeowners. For installers it's all about identifying the priority – cost or detail – and selling products accordingly.
It's not just about appearance
It's easy to focus on aesthetics when selling heritage windows, but quality, performance and reliability are important too. After all these are premium products, so they need to include premium features. Homeowners expect excellent energy efficiency, security and acoustic performance as standard, in an authentic package that outperforms original windows (and never needs repainting).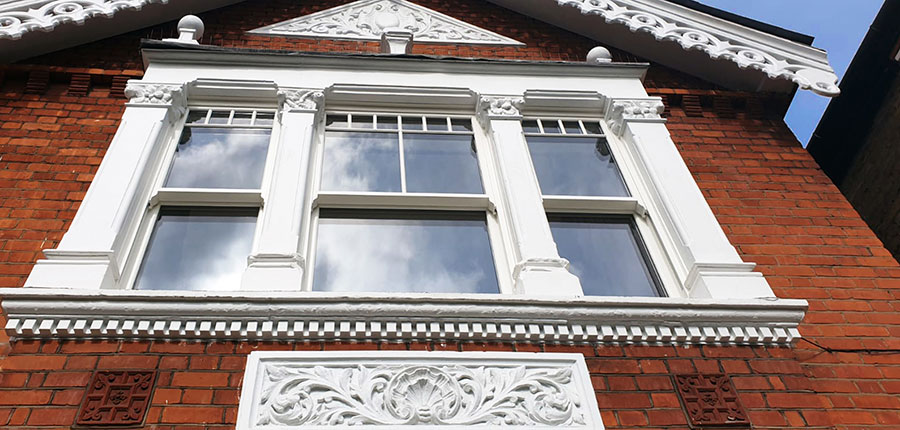 When it comes to industry-leading sash windows, quality isn't just in what you can see, but also what you can't. Behind the scenes details that consumers may never see help transform a good sash window into a great one. In turn, that can help close a sale.
All our Rose Collection sash windows include, for instance, extreme weather packs as standard. Designed to protect windows from the fiercest conditions, these hidden features are generally only used in cliff-top, coastal and exposed locations. We include them on every window. Similarly, all our windows include internal butterfly clips usually only found on Secured by Design windows, adding an extra layer of strength as standard.
Even on the more accessible exterior, we've developed features that end-users are unlikely to notice, but improve the overall quality of a window. An example is the bespoke full-length aluminium carrier that we developed for astragal bars. This system provides bar-to-glass adhesion that beats the standard clip and tape or fully taped methods used by other fabricators. Astragal bars are a key feature of heritage windows, so developing ways of improving them is important, both for homeowners and installers.
Setting a standard
Manufacturing windows for the high-end heritage market means excelling in all areas, including those that others neglect. Authenticity, performance, innovation and service all combine to make a product—or in our case suite of products—that justify the extra cost over a 'standard' window. And while the market for standard products falters in uncertain times, it's important that the premium heritage window market and its fabricators allow installers to access high-end, high-profit projects in confidence.
This article first appeared in the August edition of Glass News.
Tags: conservation, heritage, timber-alternative