Heritage Rose

sash windows
Heritage Rose is a prestigious and market-leading uPVC sash window that simply oozes period charm and character. For this reason, more and more homeowners across the UK are opting for Heritage Rose when replacing their uPVC sash windows.
Designed with all the traditional detailing found in period and victorian windows, Heritage Rose sash windows are a highly customisable and comes in a range of colours to suit individual needs. A number of decorative features such as authentic astragal bars and run-through sash horns ensure complete authenticity and make this window virtually indistinguishable from a timber original.
Whilst slim sight-lines create an eye-catching classic impression, the highly-engineered Heritage Rose sash window also scores top-marks for its security, acoustic and energy efficiency credentials. And homeowners will love the fact that their new windows are easy to operate an extremely low-maintenance.
run-thru horns
Single-piece sash horns with bespoke flush end caps.
slim sightlines
The slimmest sightlines of any uPVC sash window.
fully customisable
Available with a wide range of options to suit any property.
modern benefits
Great energy efficiency, sound insulation and security.
Run-through horns
Several years ago we designed our own run-through horn system, rather than leaving it to the systems companies.
Using a simple and bespoke horn design which – crucially – is topped off with a flush fitting cap, the result is the most authentic run-through horn you can get.
We could have gone down the easy route and designed a bold horn with a "hide all sins" wraparound horn cap. But at Roseview we're not interested in just finding the easiest path; we're about making the best, most authentic windows we can.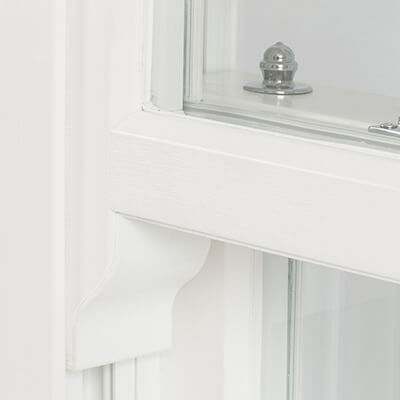 Slim sightlines
The Rehau Heritage VS profile is the envy of the industry, as it has – quite simply – the slimmest sightlines available.
It has flat putty-style external glass lines and subtly-moulded internal ones, which are fully matched on the astragal bars. It also has triple-sealed concealed brushpiles, silver or white gaskets (so that they don't stand out like black does) and an authentic deep bottom rail.
In short, the Rehau profile is simply the best one on which to base our Heritage Rose uPVC sash windows.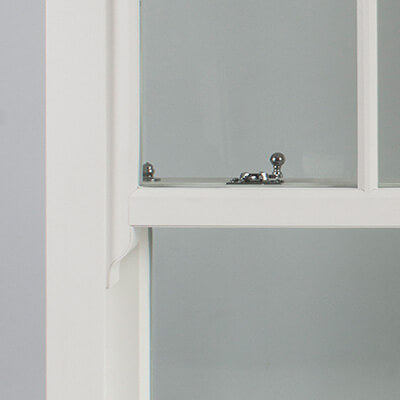 Fully customisable
Heritage Rose uPVC sash windows comes with a wide range of options, allowing you to customise it to suit your customer's exact needs.
It's available in five colours and finishes, or can be painted to any RAL colour. There are lots of furniture options available, again in different colours. You can add Secured by Design to it to enhance security, or acoustic glass to increase sound insulation.
And that's just the start. Contact us to find out just how customisable Heritage Rose uPVC sash windows really are. Whatever you want, we can probably do it!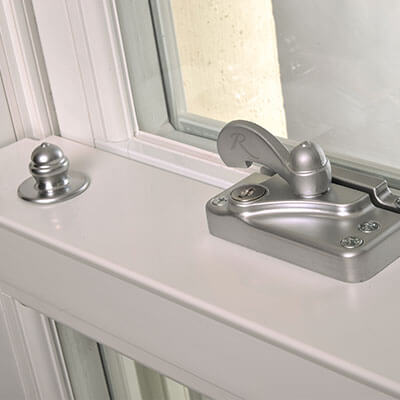 Modern benefits
Heritage Rose uPVC sash windows may have been designed with authenticity in mind, but not at the cost of modern features and benefits.
It's energy efficient; Heritage Rose sash windows are 'A' rated as standard. It also offers excellent acoustic performance helping to block out external noise, and is PAS 24 accredited, meaning that it is strong and secure. This can be enhanced even further with optional Secured by Design rating.
Like every window in the Rose Collection, both sashes tilt inwards to make them easy to clean from the inside. And best of all, Heritage Rose sash windows are easy to operate, very low maintenance and never needs repainting.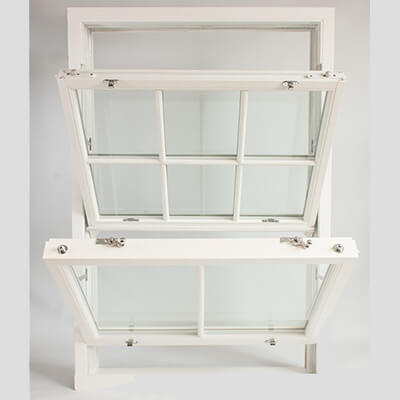 Standard features
Rehau slim profile
Deep bottom rail
Flat external putty lines
Decorative horns
Welded joints
Traditional furniture
Torsion balances
'A' rated thermal efficiency
Choice of gasket colours
Flush or projecting cill (225mm)
Tilting sashes for easy cleaning
Optional features
Run-through horns
No horns
White, white woodgrain, cream woodgrain, golden oak or rosewood foiled finish
Painted finish (any RAL colour on smooth or woodgrain)
Secured by Design
Limit stops to restrict opening
Slim-mullion option on combination windows
Extreme weather pack
Lifetime Homes pack
Technical details
Maximum width: 1500mm
Maximum height: 3000mm
Frame depth: 137mm
Midrail: 45mm
Deep bottom rail: 81mm
Cill depths: 149mm and 225mm
Glazing: 28mm IGUs
Standard finishes: white, white woodgrain, cream woodgrain, golden oak, rosewood
WER energy rating: A
Max width/height and energy rating are dependent on finish and glazing configuration.
Heritage Rose uPVC sash window video